Suffolk County Tennis & Education Foundation
Suffolk County Tennis & Education Foundation welcomes you to the fun and exciting lifetime sport of tennis.
SCTEF recommends attending tennis classes using the latest QuickStart Tennis for Adults tools to start playing tennis the fast and fun way.

Classes run May through October at designated outdoor tennis court locations starting in 2021.
Web: www.sctef.org
Phone: 631-590-5019*
*Voice mail system. Message left will be returned within 12 hrs.
Adult Tennis Instruction:
Tennis instructions for Adult (21+) beginners and advanced beginners.
Instant Tennis learning progressions to develop racquet and rally skills.

QuickStart tennis balls on 1/2 to full size courts.

Singles and doubles basics.

Group instruction. Class sizes from 6 to 12 players per class.

Tennis skills games and match play.

Meet other adults from the community.
2021 LearnTennis Adult Group Instruction and Play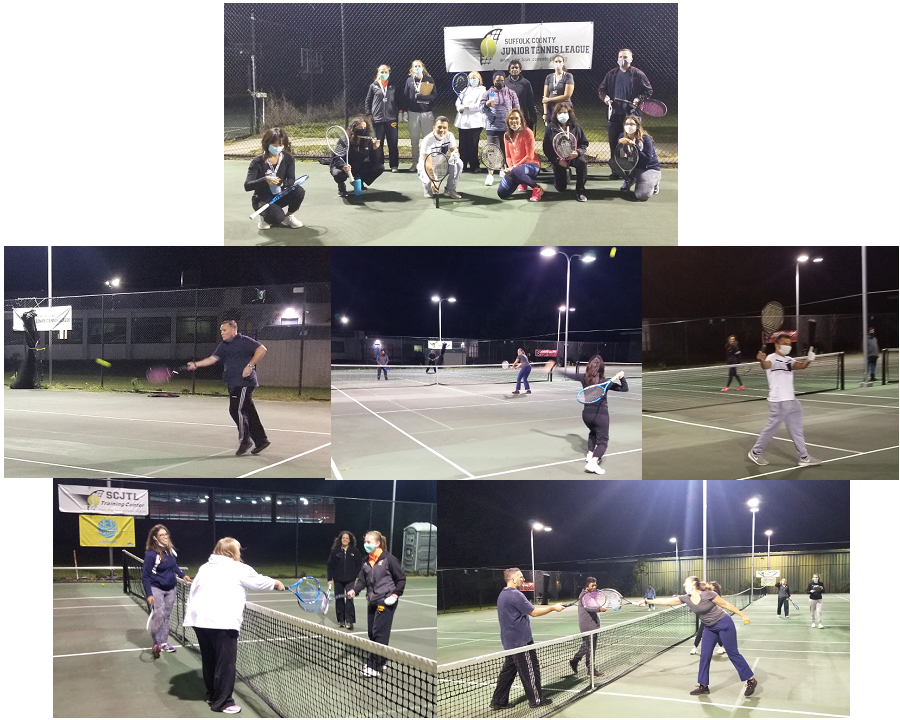 Adult Classes: 3, 1-1/2hr sessions - starting June 12, 2021
Days: Saturdays
Time: 9:00 am to 10:30 am
Location: SCJTL Training Center|Commack*
*The SCJTL Training Center in Commack is an outdoor facility with 4 lighted hardcourt tennis courts.
The tennis courts are located on the grounds of the Suffolk Y JCC Community Center.
Tennis courts are located on a private field only SCJTL has access to. No other outside activities will take place on the courts or near the area of the courts during the program.
Weekends:
Day: Saturdays
Time: 9:00 am to 10:30 am
Dates: June 12, 19, 26
Instruction by SCJTL staff coaches.
Fee: $130
Players will need to provide:
Players will need to provide the following personal equipment:

To avoid accidental sharing, Players are required to have their full name clearly written on every item brought.

Tennis racquet: 27" (full size)

Clothing

Personal safety pack:

Face covering

Face mask, gaiters.
Player will not play with mask over their faces. Instead they may be asked to wear them around their neck and instructed to cover up when they get close (within 3 feet) to ATC/SCJTL Staff and other players.

Personal

Water, sunscreen and anything personally required.

Players may bring their own sanitizer. Supply will be readily available throughout the session.

Tennis bag, drawstring or regular backpack, with full name clearly written for easy identification.

Port-a-potty available on premises.
Registration is OPEN.
Registration processed thru Arias Tennis/SCJTL Member Site.
Click link below to set up your SCJTL member Site for use when registration opens.
Click here to register thru the Arias Tennis/SCJTL Member Site.